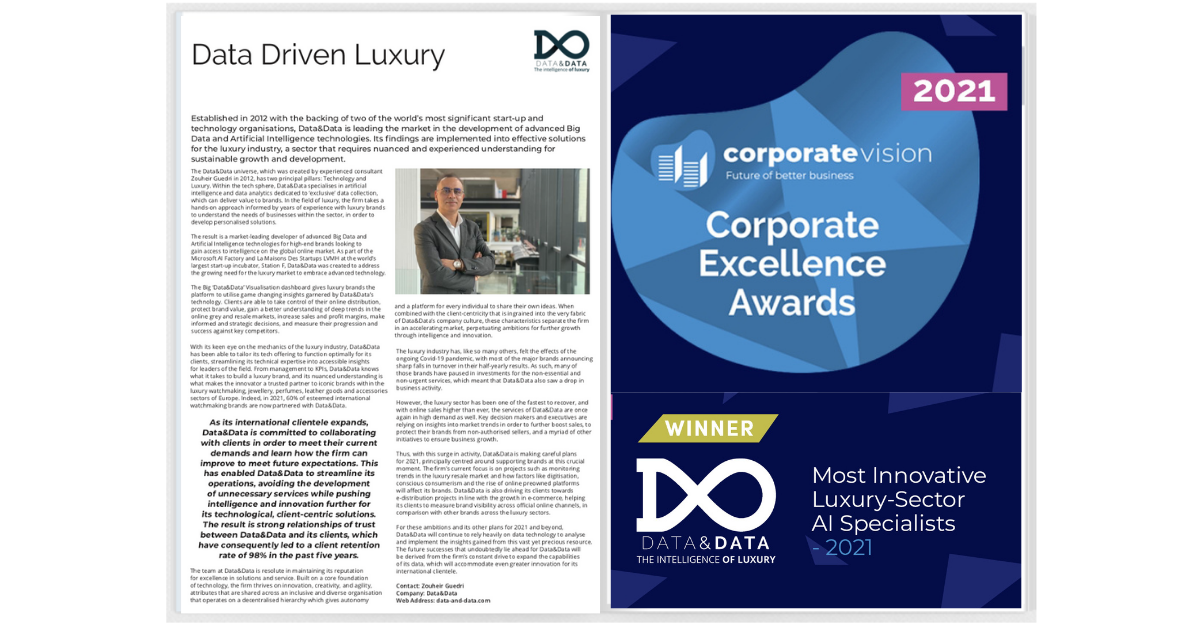 Most Innovative Luxury-Sector AI Specialists – 2021 – Corporate Excellence Awards
Data-Driven Luxury
Established in 2012 with the backing of two of the world's most significant start-up and technology organisations, Data&Data is leading the market in the development of advanced Big Data and Artificial Intelligence technologies. Its findings are implemented into effective solutions for the luxury industry, a sector that requires nuanced and experienced understanding for sustainable growth and development.
The Data&Data universe, which was created by experienced consultant Zouheir Guedri in 2012, has two principal pillars: Technology and Luxury. Within the tech sphere, Data&Data specialises in artificial intelligence and data analytics dedicated to 'exclusive' data collection, which can deliver value to brands. In the field of luxury, the firm takes a hands-on approach informed by years of experience with luxury brands to understand the needs of businesses within the sector, in order to develop personalised solutions.
The result is a market-leading developer of advanced Big Data and Artificial Intelligence technologies for high-end brands looking to gain access to intelligence on the global online market. As part of the Microsoft AI Factory and La Maisons Des Startups LVMH at the world's largest start-up incubator, Station F, Data&Data was created to address the growing need for the luxury market to embrace advanced technology.
The Big 'Data&Data' Visualisation dashboard gives luxury brands the platform to utilise game-changing insights garnered by Data&Data's technology. Clients are able to take control of their online distribution, protect brand value, gain a better understanding of deep trends in the online grey and resale markets, increase sales and profit margins, make informed and strategic decisions, and measure their progression and success against key competitors.
With its keen eye on the mechanics of the luxury industry, Data&Data has been able to tailor its tech offering to function optimally for its clients, streamlining its technical expertise into accessible insights for leaders of the field. From management to KPIs, Data&Data knows what it takes to build a luxury brand, and its nuanced understanding is what makes the innovator a trusted partner to iconic brands within the luxury watchmaking, jewellery, perfumes, leather goods and accessories sectors of Europe. Indeed, in 2021, 60% of esteemed international watchmaking brands are now partnered with Data&Data.
As its international clientele expands, Data&Data is committed to collaborating with clients in order to meet their current demands and learn how the firm can improve to meet future expectations. This has enabled Data&Data to streamline its operations, avoiding the development of unnecessary services while pushing intelligence and innovation further for its technological, client-centric solutions. The result is strong relationships of trust between Data&Data and its clients, which have consequently led to a client retention rate of 98% in the past five years.
The team at Data&Data is resolute in maintaining its reputation for excellence in solutions and service. Built on a core foundation of technology, the firm thrives on innovation, creativity, and agility, attributes that are shared across an inclusive and diverse organisation that operates on a decentralised hierarchy which gives autonomy and a platform for every individual to share their own ideas. When combined with the client-centricity that is ingrained into the very fabric of Data&Data's company culture, these characteristics separate the firm in an accelerating market, perpetuating ambitions for further growth through intelligence and innovation.
The luxury industry has, like so many others, felt the effects of the ongoing Covid-19 pandemic, with most of the major brands announcing sharp falls in turnover in their half-yearly results. As such, many of those brands have paused in investments for the non-essential and non-urgent services, which meant that Data&Data also saw a drop in business activity.
However, the luxury sector has been one of the fastest to recover, and with online sales higher than ever, the services of Data&Data are once again in high demand as well. Key decision makers and executives are relying on insights into market trends in order to further boost sales, to protect their brands from non-authorised sellers, and a myriad of other initiatives to ensure business growth.
Thus, with this surge in activity, Data&Data is making careful plans for 2021, principally centred around supporting brands at this crucial moment. The firm's current focus is on projects such as monitoring trends in the luxury resale market and how factors like digitisation, conscious consumerism and the rise of online preowned platforms will affect its brands. Data&Data is also driving its clients towards e-distribution projects in line with the growth in e-commerce, helping its clients to measure brand visibility across official online channels, in comparison with other brands across the luxury sectors.
For these ambitions and its other plans for 2021 and beyond, Data&Data will continue to rely heavily on data technology to analyse and implement the insights gained from this vast yet precious resource. The future successes that undoubtedly lie ahead for Data&Data will be derived from the firm's constant drive to expand the capabilities of its data, which will accommodate even greater innovation for its international clientele.
Contact: Zouheir Guedri
Company: Data&Data – The intelligence of luxury
Web Address: data-and-data.com
Links: https://www.corporatevision-news.com/issues/issue-4-2021/22/
Author Info